…
For a better experience please change your browser to CHROME, FIREFOX, OPERA or Internet Explorer.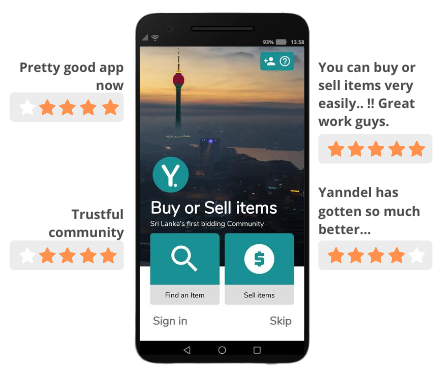 Download free for your smartphone & tablet!

Download Yanndel app
Buy, Sell & Make Deals
With Yanndel you can buy and sell easily. Find great deals or turn items
into cash. Save time,declutter and earn money. Shopping made easy!
Whether looking for second hand, used, vintage, retro, new or simply
beautiful items, Yanndel is always there as the Yanndel in your POCKet.
1. Buy and sell anywhere, anytime, locally or nationally
2. Find great bargains from millions of classifieds
3. Top 5 most downloaded UK Shopping App in 2016, 2017 & 2018
4. More than 10 million users and many more items
5. Join a trusted community: review buyers & sellers, report items,
problems or users directly
via the app
Even faster and safer
Discover great deals near you or reach even more people by shipping nationally.
Shpock makes buying & selling faster and safer than ever. With Buyer Protection we
give you peace of mind. Know your item will arrive as expected, or you'll get your money
back! Benefit from:
1.Secure & cashless payment
2.Local & national reach
3.Faster deals
4.Protection for buyers & sellers